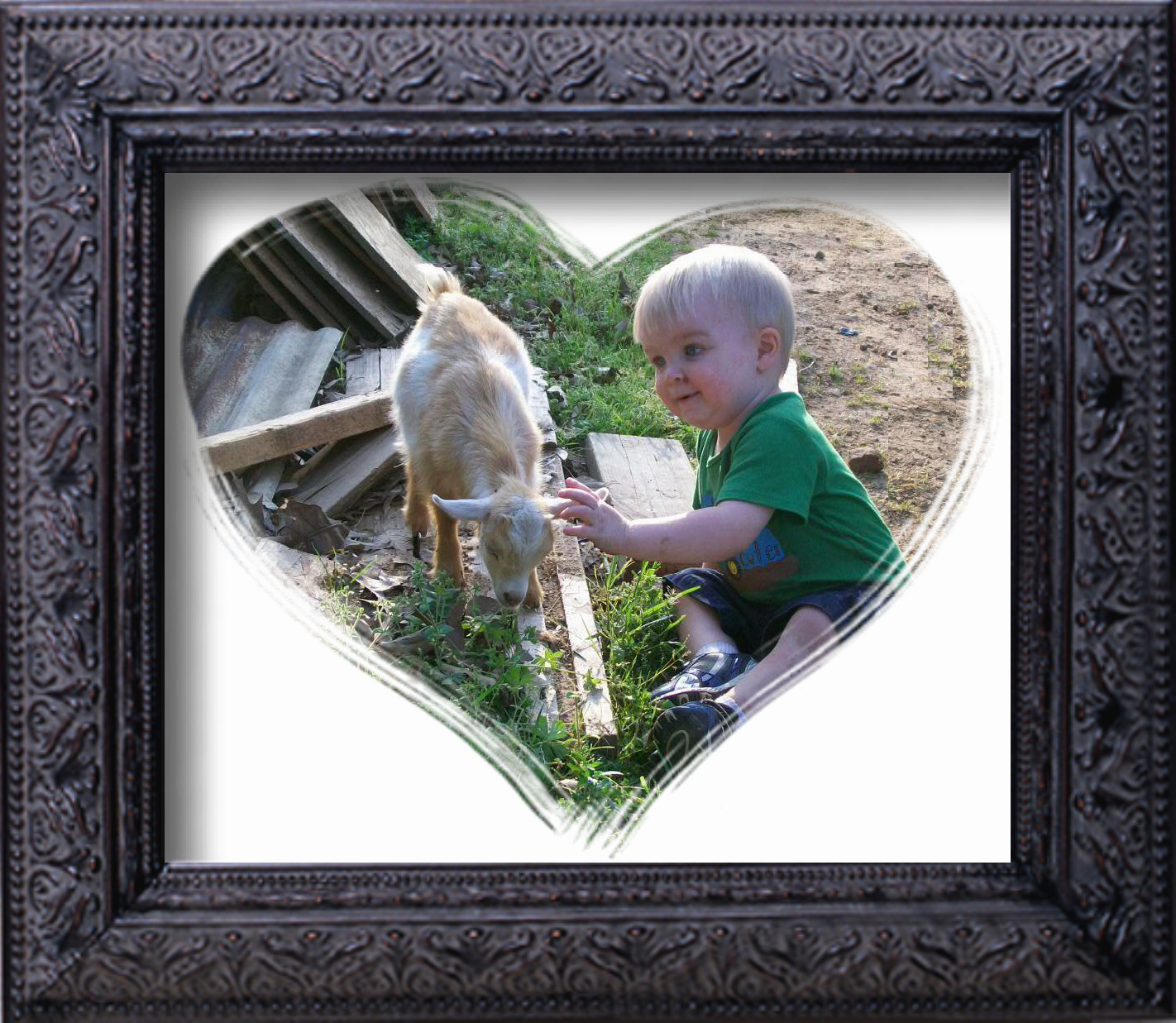 We let our Kids Walk All Over Us!

All our goats here are unregistered, but we have had them here on our farm since 2005. The Nigerian Dwarf goat is one of two miniature goat breeds in this country originating in West Africa.

There are several recognized breeds of small and dwarf goats in West Africa, and it is from these native African herds that the first "miniature" goats were imported into the United States. Although illegal imports are suspected earlier, the first documented imports arrived in this country in the 1930's and 1940's, for the benefit of several private and public zoos and preserves.
There were two distinct types of small goats imported, one being short, cobby, with short legs, and the other being more slender, with a longer body and proportionally longer legs and a more streamlined appearance. In the earlier years, in fact until about the 1960's and 1970's, little distinction was made between the cobbier type that became the African Pygmy goat, and the more dairy-type goat that became known as the Nigerian Dwarf.
Over the years, selective breeding has resulted in the two distinct breeds that are recognized today in the United States: the African Pygmy Goat and the Nigerian Dwarf. Nigerian Dwarfs are considered rare by the American Livestock Breeds Conservancy.
Our herd is a Nigerian Dwarf/Pygmy Cross breed, according to experts, leaning more toward the Nigerian Dwarf side because of their flashy color, eye color & conformation.
Color is one of the factors that makes breeding Dwarfs so popular. You can never be sure what color the babies will be until they are born; even then you can't be sure because many times their color may change. Main color families are black, chocolate, and gold with virtually every color combination imaginable being produced. Dwarfs can be dalmatian-spotted, pinto-patterned, tri-colored or just classy shades of solid jet black, white, chocolate or gold. Buckskin patters are also popular, described by contrasting facial stripes, a "cape" around the shoulders with a coordinating dorsal stripe and leg markings. Brown eyes are the most common; however, dwarfs with china blue eyes are becoming increasingly popular and available.
We maintain a small herd of Quality unregistered Nigerian/Pygmy cross goats of good confirmation and even temperament, but most of all happy & healthy goats. They are of several different colors. All are vaccinated, wormed and well fed.
YouTube© VIDEO OF OUR GOATS HERE.

We are starting the process of Reservation Deposits.
We like to keep them until their at least 2 months old, weaned, before they are ready to go to your home.
If you see one you want, email me about making your 50% deposit on it, and when its time to wean them, we will email you to come pick them up.
If making deposit by Check or Money Order, make them out to Tejas Ranch.
If you have sent in Reservation Deposits, we will email you when it is your turn and let you know what animal will be available for sale.
Great pets, hand-raised by people who know and love goats. Enjoy our site and let us help you pick your perfect goat.
The question I get asked most is how big do they get? Most Fully Grown are 16 to 23 inches in height. Height measurement is taken from the highest point of the wither (Front Shoulders) to the ground with the animal standing on a solid level floor, preferably concrete.
Images below will give you and idea of their size as kids. Most grown Does here are form 18-20 inches tall at front shoulders.
All Goats for Sale in slideshow below, pics taken 6/25/2014. Call or email me for goats in slideshow, not priced or pictured below. You will have to select the "View Album" button to go to album and get their names.
All Goats for Sale, Picture links and Prices below:
NEW Arrival of 2014 KIDS Starting NOW! Their pics are below. CLICK HERE TO SEE A PIC OF THEIR DADDY!
Our website service,Tripod.com is closing down all free websites and we will loose this site soon. I am No Longer updating this site. Please go to our NEW website by clicking here or go to our FB page. Thanks!!
DOE KIDS FOR SALE
DOB 12/8/2014 MYSTIC MIRACLE DOE $300
DOB 11/26/2014 ASIA PRINCESS DOE $300
DOB 12/4/2014 LODI II DOE $500
BUCK KIDS FOR SALE:
DOB 12/8/2014 ESTHER BUCK $300
DOB 11/26/2014 ASIA PRINCESS BUCK $100-SALE PENDING
DOB 11-30-2014 CAROB BUCK $200
DOB 12-1-2014 APHRODITE BUCK $100-SOLD
GROWN DOES:
MYSTIC MIRA DOB 5/18/2012 $200
ASIA PRINCESS DOB 11/23/2012-$250
ECLIPSE-BLUE EYES-SOLID JET BLACK-$250
VERONICA- DOB 2/1/09 BOTTLE BABY VERY FRIENDLY -$300