If you find any links that no longer work, let us know and we will try and update them, Thanks!!
Soremouth (orf) in sheep and goats-WD-40
Meningeal Worm (Parelaphostrongylus tenuis): A nightmare for goat, sheep, and camelid owners
An alternative to Baycox is the similar drug ponazuril, marketed as Marquis paste for horses. Diluting Marquis Paste
SUCCESSFUL COCCIDIOSIS TREATMENT AND PREVENTION IN MEAT GOAT HERDS
Hypocslcaemia-Use Calcium Gluconate 23% This is an excellent article on hypocalcaemia also known as Milk Fever.
Drenching Sheep: An Unconventional Approach Saved My Ram's Life
Pregnancy Toxemia and Ketosis in Goats
Getting ready for lambing and kidding-Suggested Lambing and Kidding Supplies
Scours in Goats What to do About it
Fias Co Farm-Coccidiosis -Treatment Prevention Recommendations
*Sulfasol Soluble Powder (ALBON)
*Albon Generic - Sulfadimethoxine Powder - 107 gm.
[PDF] A Haemonchus Contortus Management Plan for Sheep and Goats in Texas
[PDF]managing the worms in your sheep
Pregnancy Toximia Treatment.pdf
PURINA MILLS WILDLIFE DEWORMER FBZ
Tips for Training Goats to Electric Net Fences
The Emergency Euthanasia of Sheep & Goats
Are you hard enough to survive as a shepherd?
Basic Farm Animal Husbandry Skills
Breeding Great Pyrenees Puppies for Flock Protection or Companion Dogs
Scours in Goats What to do About it
Illustrated Guide to Baby Goat Poop
Making a Free Choice Loose Mineral Feeder
Producer's Pride Sheep & Goat Deccoquinate (DQ), Medicated, 50 lb.

Making a Free Choice Loose Mineral Feeder
Use search box below to quickly find what your needing to search for on this site.
Ask-a-Vet Sheep-A collection of sheep & goat related questions answered.
The University of Maryland Small Ruminant Extension Program now meets the requirements to have its own customized url for its YouTube channel. All of the webinar recordings (2011 to present) -Click link
May 2015 Coccidiosis in lambs and kids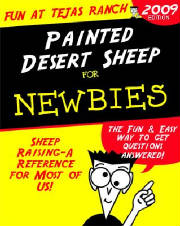 **SHEEP PRODUCERS CAN APPLY FOR LIVESTOCK INDEMNITY PAYMENTS July 3, 2009
Federal 'Cap and Trade' Energy Policy Petition
MAKE US YOUR HOME PAGE-Click Here
Every time I have found useful information on the web for emergency situations with my animals, I have linked the site to this page. These links include help for dogs, sheep & goats.
Below are these sites I have found to be very helpful when you need anwsers to health questions fast for you animals. Please report any missing or broken links you come across, to me by email, so we can fix them.
Important information for New owners of animals purchased here!!. All animals have dormate COCCIDIA present in their system, at all times. Stress from moving to their new home may cause it to flair up and cause stress diarrhea to occur. All animals should be treated for coccidia soon after arriving at their new home or inspected by a Vet to determine if they need treated for the stress caused by traveling to their new homes. Tejas Ranch is not responsible for animals who develop any illneses at their new homes. All animals are healthy when they are picked up here.
Tejas Ranch in no way indorses or is liable for any content contained in websites below.
This material is not a substitute for veterinary consultation and treatment! Do not let an animal go for days without treating it yourself or without taking it to your trusted Vet. Treat them like they are your children.
Click any of the links below for easier to find information an the animal you need help for.
My advise for searching pages is to hit the Ctrl & F keys on your keyboard at he same time, then type in the word your searching for.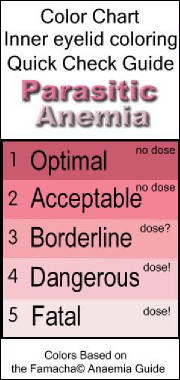 Why and How To Do FAMACHA© Scoring
FAMACHA -Parasite Monitoring System
Goat Dewormers/Anthelmintics (anti-parasite drugs)
Did you know that worms kill more goats every year than anything else?
Which Dewormer(s) Work on Your Farm?
Conflicting information about worm control
Goat vs. Barber Pole dont let the worms win
DE-WORMING AND VACCINATION SCHEDULING
American Consortium for Small Ruminant Parasite Control
SKYLINES INTERNAL PARASITE CONTROL PROGRAM
Types and colors of Scours in Goats
Home Remedy for Diarrhea or Scours in a Newborn Baby Goat
SURVIVE! is HUNTER NUTRITIONs own Vitamin E and Energy doser.
*Liver Fluke Effective Treatment
*Control of Internal Parasites in Sheep-Stomach Worms-Treatment-Dewormers
A Haemonchus contortus Management Plan for Sheep and Goats in Texas
L-5095-A Haemonchus Contortus Management Plan for Sheep and Goats in Texas
Treatment and control of liver fluke
FAMACHA-Controlling worms in small ruminents!
Managing Internal Parasites in Sheep and Goats
Sheep worms - Barbers pole worm
Merial Barber Pole Worm - Merial is a world-leading, innovation-driven animal health company
Small Ruminent Page-Internal Parasite Control-Many Links
agrilife publications for sheep
University Researchers have discovered a natural remedy for the most common intestinal parasites in goats and sheep. AU Grazer® Sericea Lespedeza Know anything about it? Email me and let me know, Thanks
RECORDS OF EXOTICS-Manual and Medal Information
PRODUCTS FOR SALE AT TEJAS RANCH
SURVIVE ! is HUNTER NUTRITIONs own Vitamin E and Energy doser. SURVIVE! often saves lambs that would have otherwise been lost due to chilling, weakness, or white muscle disease.
How to make a Barn out of a Carport